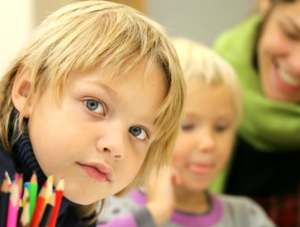 Sunday School
– Separated in age-specific classes, our children's Sunday school meets each Sunday morning at 9:15 a.m. Our curriculum is based on the issues our children face every day. Our creative and dedicated teachers know well the stuff these kids see, hear, and deal with in the world in which they live. They teach passionately about such the topics as the difference between creation and evolution or the variety of popular religions or money and stewardship to name a few.
STARZ Puppet Evangelism
– The gospel is shared through music and the acting of exciting and inspiring hand puppets. This ministry meets Sunday evenings at 6:00 p.m. Children's enthusiasm runs through the puppets as they act out the stories of Jesus. This is a very hands-on ministry. Our puppet team performs for our congregation as well as travels to other congregations, neighborhood fairs, schools, and nursing and veterans homes.
Children's Choir
– As part of our A.W.A.N.A. ministry, our children learn the gospel through song. Our children's choir will sing during our contemporary worship services from time to time.
Children's Church
– The younger members of our congregation are dismissed prior to the sermon; they gather for a time of learning and worship with lessons and activities geared toward their age groups.
Special Fellowship Events
– Throughout the year, our children will share in the celebration around certain holidays with an assortment of parties that include an Easter egg hunt, trunk-or-treat, and Christmas parties.