HOW STRONG IS YOUR VISION?
Vision is essential to any ministry that expects to flourish.  There are lots of books on ministry vision and many churches have spent countless hours trying to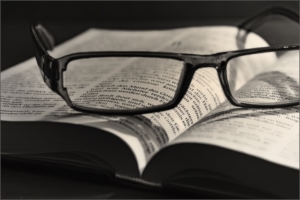 discern "their vision."  George Barna in his book, "The Power of Vision" defines vision as: a clear mental image of God's preferred future."  Barna's treatment of vision in the context of ministry is thoughtful, comprehensive and powerful if a church takes it seriously.  Some years after publishing the "Power of Vision", Barna wrote a follow up book, "Turning Vision into Action".  In that book, he addressed the nuts and bolts of vision in action for both churches and individuals.
Proverbs 29:18
"Where there is no revelation, the people cast off restraint" (NIV, NKJV)
"Where there is no vision, the people perish." (KJV)
"Where there is no vision the people run wild." (MLB)
Here are some of the descriptors Barna uses to describe a ministry without vision i:
• A cow loose in the pasture: just grazing
• A rabbit: warm and fuzzy but utterly defenseless
• A movie set: merely a façade
• A flashlight without batteries: willing but powerless
• A wedding without a bride: missing an essential element
• A car without gasoline: capable of forward movement, but lacking the necessary fuel
• A symphony without a score: lots of talent, but no direction
Far too often, church leaders neglect vision.  But without a strong commitment to a clear understanding of God's preferred future, a church soon finds itself in disarray and a vestige of people each doing their own thing.  For a church to flourish all of the people must understand and own the vision and work together to accomplish God's preferred future.
One of the most exciting aspects of a vision led church is that it inspires visionary leaders to work in the ministries of the church. The leaders encourage individuals to "pursue God's vision for their lives… and rewards them with more resources, responsibilities and opportunities." ii
I invite you to explore the strength of the vision of the church.  I encourage you to take time to discern God's vision for you and how that "preferred future" can impact the ministry of the church.
Pastor John
i  George Barna, Turning Vision into Action, Regal Books. p.10
ii Ibid p. 141