Rev. Dr. Richard Sargent, Interim Pastor
Dr. Richard L Sargent is a native West Virginian, graduating from Fairmont Senior High School in 1967 and Alderson-Broaddus College in Philippi, WV in 1972. He then attended Spurgeon's College for theological training, earning his Bachelor of Divinity in 1972 from the University of London. He received his Doctor of Ministry degree from Southern Baptist Theological Seminary in 1985. 
Richard married the former Waverly Snider in 1972, and they had two children: W Abraham and Sarah. Following Waverly's death in 1990, he married his current wife, Judy Miller, in 1993. They have three additional children: Justina, Rebekah and Rachel.  Richard & Judy have two grandchildren, Destiny and Charity. 
Dr. Sargent began his ministerial experience while a student at Alderson-Broaddus College, pastoring two small churches: Sardis Baptist Church and Marshville Baptist Church. While a student in London, he was student pastor at Brondesbury Baptist Church. After graduating from seminary, Dr. Sargent pastored four churches in West Virginia  full time over a period of 41 years: Sutton Baptist Church, First Baptist Church of Racine, First Baptist Church of South Charleston, and Main Street Baptist Church in Point Pleasant. Dr. Sargent stepped down from full time ministry at the end of 2016, and is currently teaching full time at Point Pleasant High School. 
During his pastoral career, Dr. Sargent has always been active in the West Virginia Baptist Convention, serving as an officer and as President of the West Virginia Baptist Ministers' Council, Chairman of the West Virginia Baptist Committee on Ministerial Standing, and a member of the Executive Board, member and Chairman of the Leadership Commission, and a member of the Executive Committee of the West Virginia Baptist Convention. He has also been involved as an officer in four different associations, including his current office as Clerk/Treasurer of the Teays Valley Baptist Association. 
Dr. Sargent's ecumenical involvement has included involvement in various local ministerial associations, serving for 15 years as Treasurer of the Mason County Ministerial Association.  He was also President of the West Virginia Association of Evangelicals. 
Dr. Sargent is passionate about Biblical and Christ-centered preaching and teaching. His ministry verse is Romans 1:16 " For I am not ashamed of the gospel, for it is the power of God for salvation to everyone who believes, to the Jew first and also to the Greek."
Leah Bowes, Youth Director
Leah was born and raised in Greenbrier County, WV.  After receiving her bachelor's degree in Mass Communications from the University of Charleston, she went on to Wesley Seminary at Indiana Wesleyan University and earned her master's degree in youth ministry in 2014.  She has served 10 years in volunteer youth ministry and has an internship with a local youth pastor.
Aside from youth ministry, Leah has been employed with the West Virginia School of Osteopathic Medicine since 2011 as an administrative assistant to the Charleston and Logan areas.
Leah has been a member of the West Virginia Baptist Convention churches for almost 20 years.  She has been student leadership in her youth group cabinet, president of Baptist Campus Ministries at the University of Charleston and lay speaker for First Baptist Church of St. Albans's youth ministry "The Well".
Other credentials include autistic play therapy, community service leadership, college newspaper editor-in-chief and substitute teaching.
Her interests are broad, but the highlights include spoiling her 9 godchildren, all Marvel and Disney movies, reading any Young Adult series and traveling to exotic locations such as Ireland, the Dominican Republic and Cincinnati, Ohio.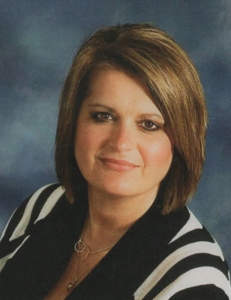 Lisa Ferrell, Secretary
Lisa joined the Highlawn Staff as our secretary in April of 2012. Prior to taking this position, she worked in the Insurance and Staffing industries. She and her husband Brian have resided in St. Albans for 31 years, have four children, one grandchild, and another on the way. Lisa is an avid baker and loves to spend time with her family.