Rev. Dr. David L. Carrico, Interim Pastor
The Rev. Dr. David L. Carrico, a 1969 graduate of Alderson-Broaddus College, received the master of divinity from Crozer/Colgate Rochester Divinity School and his doctorate in ministry from Eastern Baptist Theological Seminary in 1983.
Rev. Carrico recently retired as the executive minister of the West Virginia Baptist Convention, which has 400 churches and close to 80,000 members. He was the senior pastor of the First Baptist Church in Beckley, West Virginia, a post he held from 1989-2005. Before that he served pastorates in Clarksburg and Huntington, West Virginia; in Utica, New York; and youth ministries in Philadelphia, Pennsylvania and in Beckley, West Virginia.
Rev. Carrico's extensive community commitments also reflect a strong Christian engagement. He was co-founder and board member of the Health Right Clinic in Beckley, co-chairman of the Spirit of Beckley Award Committee and a member of the distribution committee of the Beckley Area Foundation. For 16 years he served as a fireman and chaplain of the Ghent Volunteer Fire Department in Ghent, West Virginia. He has served as chaplain for the VA Medical Center in Clarksburg, for the Nutter Fort Fire Department in Nutter Fort, West Virginia, for United Hospital Center in Clarksburg, and for the Huntington Fire Department in Huntington, West Virginia.
He is a charter member of the American Association of Christian Counselors, and was voted Citizen of the Year by the Clarksburg Jaycess. He was a recipient, with his wife, Janey, of the S. Ward and Evangel Robinson Ministerial Team Award at Alderson-Broaddus College.
David and his wife, Janey, a 1970 graduate of Alderson-Broaddus College, are the parents of five adult children: Timothy, Matthew, Adam, Lisa and Amy. The Carrico's have six grandchildren.
Leah Bowes, Youth Director
Leah was born and raised in Greenbrier County, WV.  After receiving her bachelor's degree in Mass Communications from the University of Charleston, she went on to Wesley Seminary at Indiana Wesleyan University and earned her master's degree in youth ministry in 2014.  She has served 10 years in volunteer youth ministry and has an internship with a local youth pastor.
Aside from youth ministry, Leah has been employed with the West Virginia School of Osteopathic Medicine since 2011 as an administrative assistant to the Charleston and Logan areas.
Leah has been a member of the West Virginia Baptist Convention churches for almost 20 years.  She has been student leadership in her youth group cabinet, president of Baptist Campus Ministries at the University of Charleston and lay speaker for First Baptist Church of St. Albans's youth ministry "The Well".
Other credentials include autistic play therapy, community service leadership, college newspaper editor-in-chief and substitute teaching.
Her interests are broad, but the highlights include spoiling her 9 godchildren, all Marvel and Disney movies, reading any Young Adult series and traveling to exotic locations such as Ireland, the Dominican Republic and Cincinnati, Ohio.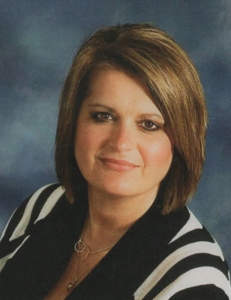 Lisa Ferrell, Secretary
Lisa joined the Highlawn Staff as our secretary in April of 2012. Prior to taking this position, she worked in the Insurance and Staffing industries. She and her husband Brian have resided in St. Albans for 31 years, have four children, one grandchild, and another on the way. Lisa is an avid baker and loves to spend time with her family.