Rev. John Simmons, Interim Pastor
Highlawn Baptist Church is privileged to have the Rev. John Simmons as our Interim Pastor, guiding us though this period of transition.
John graduated with his Masters of Divinity from Southern Baptist Theological Seminary in 1984. After 13 years of pastoral ministry, John and his family served as International Ministries' missionaries in Thailand. John began working for the Convention in 2002 as the Minister of Mission Support. The role of Chief Financial Officer was added to his portfolio in 2004 and he was named Associate Executive Minister beginning 2006.
John is responsible for the financial and administrative functions of the Convention, communications and, of course, mission support. John's passion is missions and he loves to share that passion with others.
Join us during this exciting time of transition as we seek God's will for His church!
Leah Bowes, Youth Director
Leah was born and raised in Greenbrier County, WV.  After receiving her bachelor's degree in Mass Communications from the University of Charleston, she went on to Wesley Seminary at Indiana Wesleyan University and earned her master's degree in youth ministry in 2014.  She has served 10 years in volunteer youth ministry and has an internship with a local youth pastor.
Aside from youth ministry, Leah has been employed with the West Virginia School of Osteopathic Medicine since 2011 as an administrative assistant to the Charleston and Logan areas.
Leah has been a member of the West Virginia Baptist Convention churches for almost 20 years.  She has been student leadership in her youth group cabinet, president of Baptist Campus Ministries at the University of Charleston and lay speaker for First Baptist Church of St. Albans's youth ministry "The Well".
Other credentials include autistic play therapy, community service leadership, college newspaper editor-in-chief and substitute teaching.
Her interests are broad, but the highlights include spoiling her 9 godchildren, all Marvel and Disney movies, reading any Young Adult series and traveling to exotic locations such as Ireland, the Dominican Republic and Cincinnati, Ohio.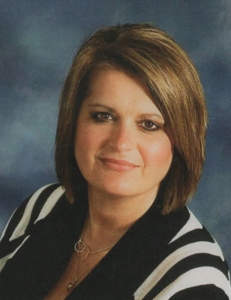 Lisa Ferrell, Secretary
Lisa joined the Highlawn Staff as our secretary in April of 2012. Prior to taking this position, she worked in the Insurance and Staffing industries. She and her husband Brian have resided in St. Albans for 31 years, have four children, one grandchild, and another on the way. Lisa is an avid baker and loves to spend time with her family.